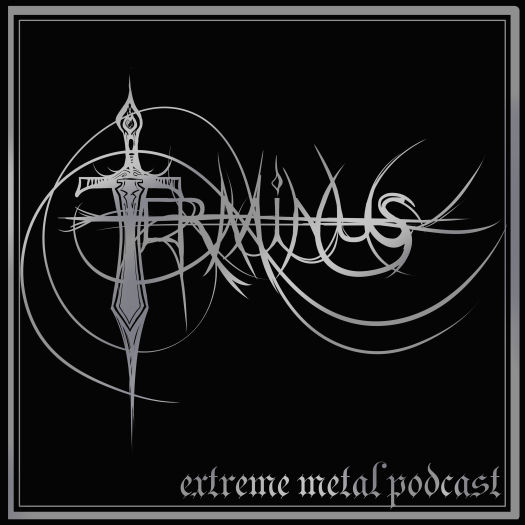 Before Terminus takes a brief break to catch up on the day jobs we've been ignoring for months, we have a shorter, diamond-hard episode for you split in two distinct halves- wandering, melodic, and unusual one-man black metal versus two very different takes on modern war metal. We'll be back week after next, but hopefully this keeps the shakes away long enough to survive your detox.
Our first record of the evening comes as a personal submission from Floris of Asgrauw and Meslamtaea with a new one-man project that appears to concentrate on... trees? Gallows? Dutch is hard. Anyway, Schavot represents an effort by one of Holland's MVPs to create full-spectrum, 2nd wave-centered black metal with his own idiosyncratic presentation. Unsurprisingly, it's excellent- faithful to the past but employing modern musical technology that creates something both familiar and surprising to the seasoned listener.
Next is the side project of Terminus alum Aarsland (of Devilgroth fame,) Monotonic Negativel. The airy, almost improvisational feel of Devilgroth shines through, but now brought back down to earth with intense inflections of industrial and DSBM. The result is something that can only come from Aarsland- dark, gloomy, and surprisingly beautiful with stabs of intense aggression and heaviness you don't typically see in the style.
Our second half is a quick blast through two war metal records. The first is the debut EP by Azothyst, which attempts to wed the battering aggression of war metal with dissonant riff patterns from orthodox black metal and Ulcerate. This project has an all-star lineup of Canadian black/death legends, but does is it able to withstand the weight of its own ambitions and this style's natural pitfalls? We discuss.
Wrapping up is Caveman Cult's new full-length from the beaches of Miami, playing a bludgeoning and unsophisticated style of war metal str8 outta 1995. There's a lot discussed in this section: are we sure this isn't just grindcore? How do you weave songs this blunt and primeval together in an elegant way? Just what the hell DOES "crust" mean, anyway? As always, there's plenty of excitement to find and intrigue to dig out, even on a record which operates with all the subtlety of a pool ball in a tube sock to the ribcage.
Thanks for listening, Terminators- we'll see you in a couple weeks.
0:00:00 - Intro
0:08:27 - Schavot - Galgenbrok (Void Wanderer Productions/War Productions)
0:46:41 - Monotonic Negativel - The Silent Abyss (Independent)
1:25:42 - Interlude - Hæthen - "Amongst The Forlorn Larch," fr. Shaped by Aeolian Winds (Fallen Empire - LP / Ars Magna - CD, 2015)
1:35:42 - Azothyst - Blood of Dead God (Vault of Dried Bones)
2:02:39 - Caveman Cult - Blood and Extinction (Nuclear War Now)
2:30:05 - Outro - Proclamation - "Altars of Mayhem" fr. Execration of Cruel Bestiality (Nuclear War Now, 2009)
Terminus links:
Terminus on Youtube
Terminus on Patreon
Terminus on Subscribestar
Terminus on Instagram
Terminus on Facebook
thetrueterminus@gmail.com