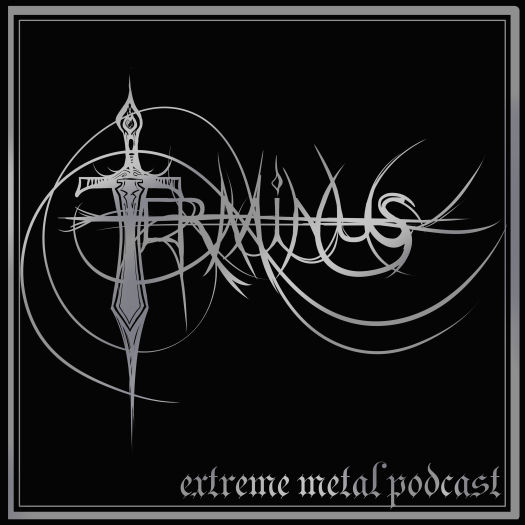 Here on Terminus, we run wild and free, nude and screaming- we don't play by anyone's rules, not even our own. So when faced with literally the worst drought of worthwhile releases to cover we've ever seen in the show's history, what do we do? Well, we just cover stuff from the past few years, just before the show started. What you get here is a cross-section of the sort of thing we listen to day to day when not keeping up with new releases. What does it reveal? Well, mostly that we're pretty dumb.
We start with Totenwache, a band discovered by TBMG who handed them off to TDMG who immediately started drooling and shivering uncontrollably from the first riff. Totenwache plays that most ignominious style of black metal- the Franco-Finnish- but with a masterful guitar technique and sophisticated melodic arrangements that elevate them far above the pack. We got a little burned out on this style last year, but this record is a great reminder of why it's worthwhile in the first place.
Fatum is next with a record that can really only be described as stenchcore in the purest sense. The band uses various familiar vectors of attack- crust, hardcore, death, and thrash- but combined into a resolute, ripping, pagan, and ecstatic record which points to a future where stenchcore could be a full genre, not merely a deep cut offshoot of crust. Even TDMG likes this one, especially the parts that sound like Slayer played by aliens with only a dim concept of "music."
After the break is Internal Rot, briefly mentioned on last year's aggregate list as an honorable mention. In the tradition of bands like Captain Cleanoff and The Kill, Internal Rot plants their flag as new masters of Aussie grindcore, with compact and explosive songs that feature the best of both worlds in metal and punk. Just how much can you get done in a 30 second song? Well, it turns out, quite a lot.
Wrapping up our trip down memory lane is Hatespirit, a Finnish band often mentioned by TBMG but surprisingly difficult to describe. Operating in a liminal space between the 2nd wave and the more cantankerous and hermetic strains of nowadays black metal, you get something that echoes the mood of Under a Funeral Moon but thoroughly modern in its implementation. Want to know what TBMG listens to while wandering the moors at night, grumbling incoherently to himself? This is it.
0:00:00 - Intro
0:15:01 - Totenwache - Der schwarze Hort (Independent/Worship Tapes)
1:04:34 - Fatum - Edge of the Wild (Zay-Nin Records/Headnoise Records/Voice From Inside)
1:48:27 - Interlude - Totenwache - "Säuberung," fr. the Verbrannte Erde split w/ Mavorim (Independent w/ ltd. cassette on Worship Tapes, 2018)
1:56:31 - Internal Rot - Grieving Birth (Iron Lung Records/Headsplit Records/Blastasfuk Grindcore/625 Thrashcore)
2:28:47 - Hatespirit - Ageless Wilderness (Altare Productions/Nykta Records)
3:02:56 - Outro - Hatespirit - "Eerie Winter Nights"
Terminus links:
Terminus on Youtube
Terminus on Patreon
Terminus on Subscribestar
Terminus on Instagram
Terminus on Facebook
thetrueterminus@gmail.com