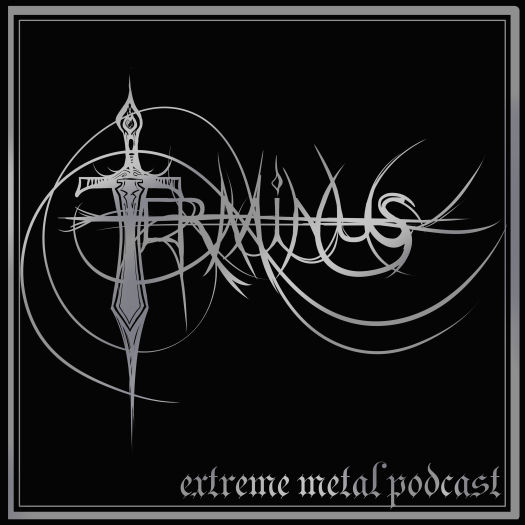 After about a million technical problems and an equal amount of alcohol consumption, Terminus episode 68 finally arrives with 4 records of intense vision, rigor, and precise execution. From epic black metal to goregrind, a wide swath of styles are covered today, with a running thread of highly specific and focused artistic imagination. And we like them all! Well, ONE OF US likes them all.
Opening the episode is Australia's Norse, who play a fusion of challenging, somewhat dissonant black metal, downtempo, and experimental industrial, all bound together with a streak of gothic melody. The results aren't quite as diffuse as they sound, as Norse weaves together Deathspell Omega-style hyperspeed riffing with punishing, sludgy breakdowns, making for a record both varied and rewarding to the careful listener. 8 strings can play black metal too!
Italy's Solitvdo up next with a record bound for greatness. Following in the footsteps of Spite Extreme Wing and the Invitta Armata circle, Solitvdo plays solar metal exclusively, but with a twist of powerful, heroic synth work cutting across fields of frenzied, ecstatic riffing. Absolutely mandatory for listeners who enjoy the "Terminus style" of black metal, and a record which immediately launches this project to the top of the scene.
After our break, TDMG knowingly and with malice aforethought presents .357 Homicide, a 2-man slam crew out of England whose grotesque tones are matched by their intense rhythmic depth. Expanding on the template originally pioneered by Cephalotripsy, this band concentrates on convulsive and swinging rhythmic dynamics, making an appropriate soundtrack for both ballroom dancing and mass murder.
Wrapping up the episode is a blast from the past with Lymphatic Phlegm, Brazilian goregrind legends. Don't let the genre description fool you- LP are notoriously unique for their dreamy, reverb-drenched production and fascinating riffing style which dances between traditional heavy metal, goth rock, and neoclassical music. 14 years has done nothing to dull the scalpel, proving once again that this is a band who deserves much greater attention from the metal scene than they've experienced over the years.
0:00 - Intro featuring Murmuüre and Brodequin
0:18:14 - Norse - Ascetic (Transcending Obscurity)
1:01:13 - Solitvdo - Hegemonikon (ATMF)
1:41:22 - Interlude - Infamous - "Germogli di disgrazia e rovina" fr. Muttos pro s'aristocratzia (Independent, 2019)
1:46:19 - .357 Homicide - Executed on Site (Vile Tapes Records)
2:18:53 - Lymphatic Phlegm - Roughly Excised - Putrefindings, Morbidescriptions and Necrognoses (Black Hole Productions)
2:57:39 - Outro - Psychosadistic Haterapist - "Alley Sweeper" fr. 4-Way Cybergrind Pornogoremageddon (Butchered Records, 2006) (Most of this is scattered across Youtube but I have no idea where you'd find a physical copy these days.)
Terminus links:
Terminus on Youtube
Terminus on Patreon
Terminus on Subscribestar
Terminus on Instagram
Terminus on Facebook
thetrueterminus@gmail.com