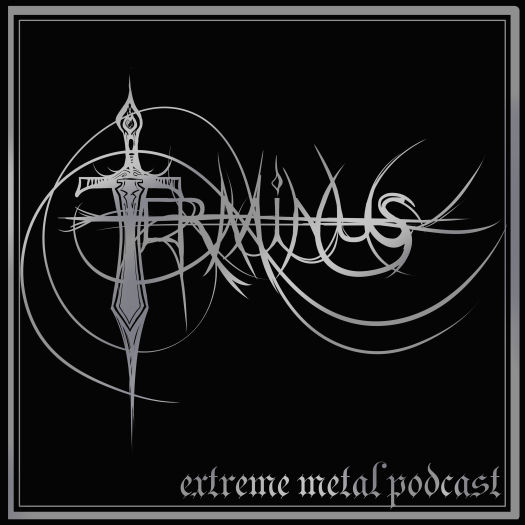 On this week's bright, shiny, punctual episode of Terminus, we've got a bit of a role reversal for you. The Black Metal Guy gets the first half of the show, with some uncharacteristically polished, modern-sounding, death-metal-ish stuff. On the second half, The Death Metal Guy brings you an interesting sampler of.... raw black metal?
TBMG leads off with the Spire's long-awaited, carefully-crafted Temple of Khronos. While anyone who liked Entropy (2016) will like this record, it's a bit of a stylistic curveball, not so much a forward leap as a clever sidestep. Your hosts try to figure it out, as they bang their heads to these memorable, dramatic songs.
Next, TBMG continues his reign of terror with the debut full-length of Carcinoma, who sit at the crossroads of several subgenres of dissonant, punishing black and death metal. Unlike many of their ortho-, disso-, and cavernous competitors, however, Carcinoma cut through the murk with convulsive, high-intensity body music.
After the break, The Death Metal Guy takes over, and it's stomping time. He introduces us to Qwälen, a new Finnish BM band whose crust / hardcore roots show in their refreshingly intense, aggressive take on the style. TBMG digs it, but he feels like he's heard this somewhere before....
TDMG closes out with one of his classic off-the-beaten-path finds, nocturnal rainforest BM from Costa Rica's Ancient Spheres. This band is steeped in the spirit of 90s Scandinavia, transposed about 50 degrees latitude south, and 90 degrees longitude west. No point trying to describe it any more, here. This band rules. Just listen.
00:00 - Introductory bullshitting / rundown of bands and labels
07:55 - Spire - Temple of Khronos (Sentient Ruin Laboratories)
52:02 - Carcinoma - Labascation (Rat King Records)
01:27:16 - Interlude - Sectioned - "Beautiful Struggle" into "Starved Lives," fr. Annihilated (Independent, 2019)
01:35:45 - Qwälen - Unohdan sinut (Time to Kill Records)
02:08:40 - Ancient Spheres - Prayers of the Black Flame (Independent)
02:58:18 - Outro - Zargof - "Beyond the Dark Gates of My Promised Fortress," fr. Departure For The Cosmic Twilight (Ars Magna Recordings, 2005). Digital released independently on Bandcamp *for free*.
Terminus links:
Terminus on Youtube
Terminus on Patreon
Terminus on Subscribestar
Terminus on Instagram
Terminus on Facebook
thetrueterminus@gmail.com