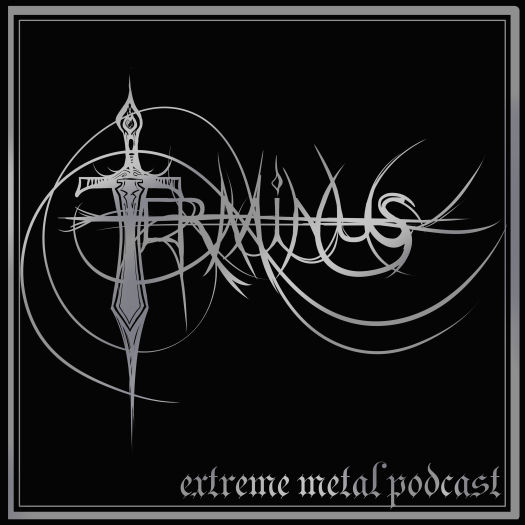 In this long-awaited (sorry!) episode of Terminus, your hosts explore the outer limits of death metal, refine the contours of a new subgenre they've just named (see Elegiac segment in Ep. 38), and sing the praises of really loud drums (that's bands #2-4, and the snare on #1 isn't bad either).
The show lurches off to a gronkulated start with Ad Nauseam, an Italian death metal (?) band as abrasive as they are musically sophisticated. Their serious knowledge of music theory and composition gives them an arsenal for taking that most underwhelming of subgenres, "dissonant black/death." to the levels of high artistry and frenzied extremity it's always attempted. In the process, we return to a conversation that's been coming up a lot lately -- "Is this even death metal, anymore?"
Next, we finally check out a band we've heard good things about from one of our patrons, and The Internet in general - Aphelion, whose high-energy Missouri black metal runs through a vast array of styles, yet exudes a very particular vibe. What core sound is this new band striving toward, and how does it fit into where the American scene these days?
Leading off the second half, we're back with some totally killer blackened sludgegri..... Just kidding, it's more Slavblack. This time, it's Ulvegr, veterans of the Ukrainian scene who play a fiercely focused, stormblasting variant of their native style. The Black Metal Guy praises their elemental riffcraft, while The Death Metal Guy hails the sharply punctuated drum attack, and - as always - finds a couple interesting musical parallels. 
Finally, it's been only a few months since we reviewed Pan-Amerikan Native Front's split with Ifernach, but P.A.N.F. is back with a decisive victory in Little Turtle's War. Here, Kurator of War leads us through 18th-century warscapes of cinematic scale, shrouded in smoke, peppered by gunshots, and paced by the pulse of shamanic battle-drums. We link P.A.N.F.'s flagship Native BM to the broader currents of American "outlaw rock," and talk over the significant growth in songwriting.

After we'd already recorded the episode, we learned a couple interesting things from Kurator. First, he wrote LTW in 1.5 months. Second, the massive drum sound here and on the split comes directly from the Iron Hand of Dan Klein (ex-F.I.N.), who also handled mixing and mastering. 
00:00 - Intro / Terminus News ft. Black Hole Deity and Deiquisitor / rundown of bands and labels
00:23:01 - Ad Nauseam - Imperative Imperceptible Impulse (Avantgarde Music)
01:09:12 - Aphelion - The Chill of Heavens Abandonment (Independent)
01:48:19 - Interlude - Bob Dylan - "The Times They Are A-Changin'," fr. The Times They Are A-Changin' (Columbia Records, 1964)

01:51:31 - Ulvegr - Isblod (Ashen Dominion)

02:28:03 - Pan-Amerikan Native Front - Little Turtle's War (Stygian Black Hand - USA / Les Fleurs du Mal - CA / Death Kvlt - UK + EU)
Terminus links:
Terminus on Youtube
Terminus on Patreon
Terminus on Subscribestar
Terminus on Instagram
Terminus on Facebook