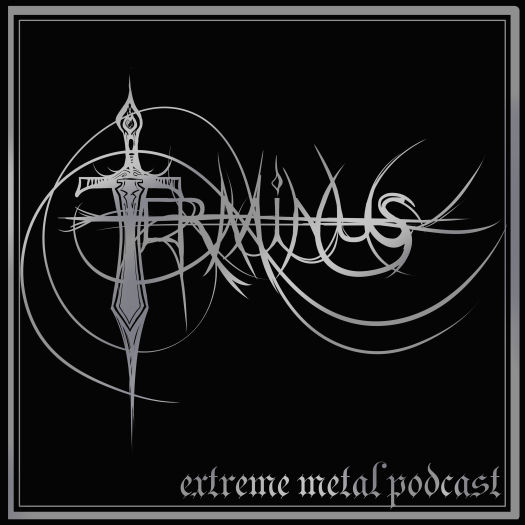 On Episode 32 of Terminus, we've got another quintessentially Terminus lineup -- some true Finnish BM, some Russian DSBM, some stomping Yorkshire boot-black, aaaaand some technical brutal death metal.
We lead off with an in-depth review of Horna's massive new monument, Kuoleman Kirjo, their first record in 5 years and their most ambitious in 11. We place it in the context of Horna's lengthy catalog, and try to capture what's so new about the songwriting and album structure. Don't worry, it still sounds like Horna! Next up, we check out the melancholy, stripped-down Slavblack of Depths of Despair, which The Death Metal Guy hears as a distillation of how black metal has changed over the last ten years. But are these the changes that The Black Metal Guy loves, or the changes The Black Metal Guy hates?
The second half kicks off with a palm-muted 16th-note run, as we hit the next stop on TDMG's guided tour of that most misunderstood of subgenres, brutal death. He floats an interesting theory about the nature of the nowadays brutal DM band -- what could such a hideous alien assemblage have in common with a jazz quartet? Finally, we close with a lengthy conversation about the taciturn, stoically resistant spirit of White Medal's northern English punk BM. The Black Metal Guy feels like he finally Gets It, but will The Death Metal Guy be equally impressed? Let's find out....
00:00 - Introductory bullshitting / interview plug
03:35 - Terminus News ft. Empyreal (Transylvanian Tapes) and Venus Star (Terratur Possessions)
16:54 - Rundown of bands and labels
21:15 - Horna - Kuoleman Kirjo (World Terror Committee)
01:04:15 - Depths of Despair - Мрак Пожирающий Реальность, or Darkness Devouring Reality (AuToDaFe Productions / Der Schwarze Tod)
01:38:21 - Interlude - Horna - "Merkuriana," fr. Sanojesi äärelle (Debemur Morti, 2009). There's also a 2015 CD reissue from W.T.C.
01:45:15 - Focal Dystonia - Descending (In)Human Flesh (Comatose Music)
02:21:19 - White Medal - Elmet (Altare Productions / Legion Blotan)
03:14:30 - Vrîmuot - "Wolffsangel," fr. O Tempora, O Mores! (Prophecy Productions, 2020)
Terminus links:
Terminus on Youtube
Terminus on Patreon

Terminus on Subscribestar
Terminus on Instagram
Terminus on Facebook

thetrueterminus@gmail.com