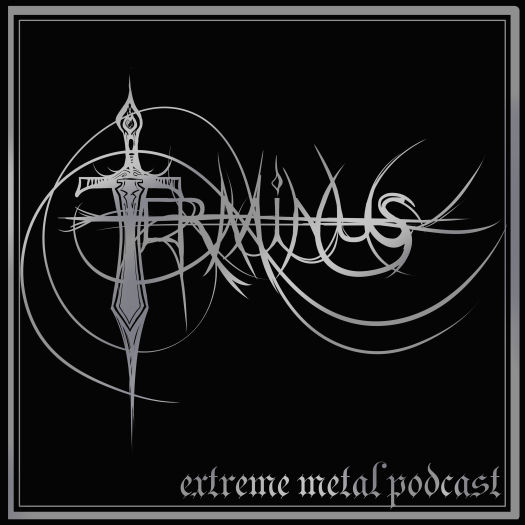 On this ripping new episode of Terminus, The Black Metal Guy and The Death Metal Guy run through a trio of new BM releases, from the polished to the raw to the utterly primitive, and some BM-friendly brutal death to boot.
We lead off with what is probably our favorite major-label release of the year - Hinsides Vrede by Sweden's Mork Gryning, venerated ancestors back from the burial mound and stronger for it. This band starts from the Swedish Second Wave and sets it racing, gathering up forgotten 90s sounds and coming out ahead of younger bands. Next up is Sardonic Witchery, a Portuguese BM maniac transplanted to Texas. His thunderous low-end rock-BM shows his love of the genre as a whole, and a serious commitment to each of his musical ideas.
On the second half of the show we move into weirder territory. The Black Metal Guy brings the primordial Americana-black of Nihil Invocation. There's a lot about this aesthetic we like, but a lot we'd like to hear developed, too. Finally, The Death Metal Guy closes out with multinational project Molecular Fragmentation, who share members with Induced (see Terminus 13). This is the sort of whiplash brutal death that TBMG can really dig, and it leads us back to our ongoing conversation about death metal's future (see Terminus 20, 22). We read the portents, finding only fire and blood. Is "Brutal Death x War Metal" the next big thing?
00:00 - Introductory bullshitting
02:01 - The Death Metal Guy shares a rehearsal track (from a BM band); The Black Metal Guy listens and critiques.
16:43 - Rundown of bands and labels
22:55 - Mork Gryning - Hinsides Vrede (Season of Mist)
01:00:32 - Sardonic Witchery - Moonlight Sacrifice Ritual (War March Records/Niflhel Records/Warhemic Productions/Worship Tapes)
01:34:12 - Interlude - Morte Incandescente - "Black Skull Crushing Metal," fr. Coffin Desecrators (2005, GoatowaRex). Reissued by War Arts Productions, 2015.
01:38:39 - Nihil Invocation - Dead Seed Immersed in Glory (Asrar)
02:22:56 - Molecular Fragmentation - Unparalleled Fatal Collapse (Pathologically Explicit Recordings)
03:06:15 - Outro - Peter Warlock - "Pavane," fr. Capriol Suite (1926). Included on this great comp by EMI Classics. The Curlew, a song-cycle based on poems by Yeats, is another good one to check out.
CORRECTION: Peter Warlock died in 1930, not the later 30s. I (TBMG) fudged a few dates as I riffed off of Wikipedia.
Terminus links:
Terminus on Youtube
Terminus on Patreon

Terminus on Subscribestar
Terminus on Instagram
Terminus on Facebook

thetrueterminus@gmail.com