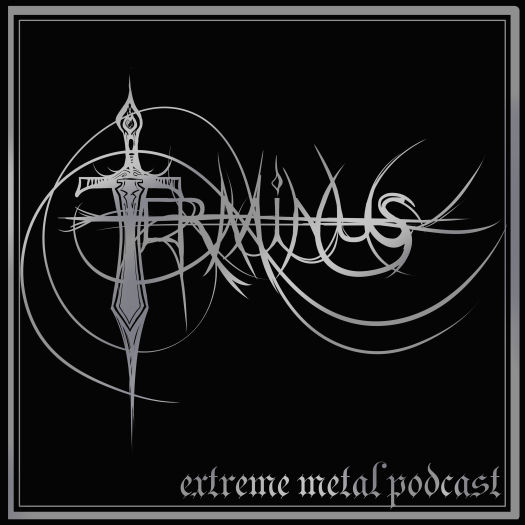 On this fine new episode of Terminus, we focus on a trio of bands returning to pre-00s roots, reactivating the potential of ancestral styles. And then.... as always.... some brutal death!

In the first half of the show, we focus on two bands formed by honored veterans of their respective scenes. The Black Metal Guy leads off with Sweden's Trident, descended from Dissection and Lord Belial, now returning from a decade's hoary slumber. They've chiseled out a mountain of a record, cut from the old stone with a new shape! We study their synthesis of two late-90s sounds that have rarely been successfully imitated, let alone integrated, and talk over where they could go from here. Not to be outdone, The Death Metal Guy counters with Poland's Mysthicon, composed of members of Vader, Hate, Batushka, and Lux Occulta. This record hearkens back to a forgotten constellation of gloomy gothic-fantasy bands from across the spectrum of 90s extremity. At first we don't know what to make of it, but as the show goes on, it works its strange spell....
In the second half of the show, it's back to our usual roster of deep-underground projects. The Black Metal Guy returns to his icy onslaught with Panzerwar's Warlord, a reverent reawakening of the True Norwegian Black Metal -- with a rabid spirit rooted in early demos and hardcore punk. You think you've heard this before, but you haven't! Finally, The Death Metal Guy spins the globe to sunny Andalusia, where two mad motherfuckers with gnarly punk piercings make basement-shaking, dungeon-rattling brutal death. Encephalic has a surprisingly melodic, textural approach to a sound that's often full frontal eardrum demolition (see last week's bit on Insalubrity) -- could this be the future of real death metal?
00:00 - Introductory bullshitting / rundown of bands and labels
09:13 - Trident - North (Non Serviam)
48:18 - Mysthicon - Silva - Oculis - Corvi (Witching Hour Productions)
01:24:05 - Interlude - Behemoth - "Wolves Guard My Coffin," fr. Svantevith (Storming Near The Baltic) (Pagan Records, 1995). 2018 LP reissue by Back on Black available from Plastichead.
01:29:19 - Panzerwar - Warlord (Cold Sword Productions / Kult of Belial Records)
02:10:10 - Encephalic - Exalted Perversity (Sevared Records)
02:27:42 - Trident, "North," fr. North (see above)
CLARIFICATION: Jon Nodtveit (R.I.C.) has songwriting credits throughout Storm of The Light's Bane. Johan "Reaper" Norman has songwriting credits alongside John for the three tracks mentioned - "Soulreaper," "Thorns of Crimson Death," and "Unhallowed." TBMG clears this up at the beginning of the Mysthicon section.

Terminus on Youtube
Terminus on Patreon

Terminus on Subscribestar
Terminus on Instagram
Terminus on Facebook

thetrueterminus@gmail.com