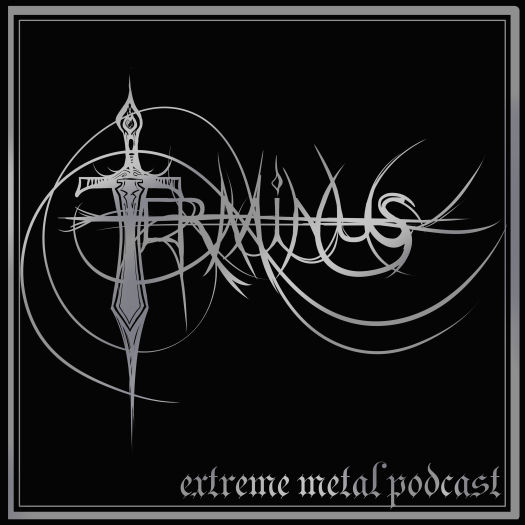 On this week's Terminus, we bring you some properly gnarly and eccentric sounds, punctuated by what may be the most catchy, accessible record we've yet covered. And as with Ep. 17, the whole batch gets the Terminus seal of approval!
The Death Metal Guy leads off with Evaporated Sores' industrial-grade skronk attack, a serious bid to up the ante in the extremity wars. These guys play all the wrong notes in all the right ways, with an open-form approach to writing that makes a virtue of collapse. The Black Metal Guy answers with Dephosphorus, a long-running Athens band who push their self-created subgenre, 'astrogrind',  toward its most epic, atmospheric potentials -- without compromising on sick riffs.
And the Greek streak continues with Katavasia (ft. mem. of Varathron), whose Magnus Venator may be the ultimate Hellenic BM party record, fully embracing the scene's proud heavy metal roots without forsaking core black metal riffing and belief. Finally, in the longest segment of the day, your hosts wander through the windy, rainsoaked fields of Sale Freux's native Brittany, clinging for dear life to bottles of cheap booze, and loving every second of it. Melancholy tremolo abounds, and the ravens flock to the eerie sound.
00:00 - Introductory bullshitting / rundown of bands and labels
12:46 - Evaporated Sores - Ulcerous Dimensions (Sentient Ruin Laboratories)
51:39 - Dephosphorus - Sublimation (Nerve Altar, 7Degrees Records, Selfmadegod)
01:23:20 - Interlude - Antigama, "Division of Lonely Crows," fr. Depressant (Selfmadegod)
01:26:09 - Katavasia - Magnus Venator (Floga Records)
02:04:03 - Sale Freux - Le Dernier Corbeau Du Monde (France d'Oïl Productions)
02:50:45 - Outro - Mutiilation, "To The Memory of The Dark Countess," fr. Remains of a Ruined, Dead, Cursed Soul (reissued by Osmose)
Terminus on Youtube
Terminus on Patreon

Terminus on Subscribestar