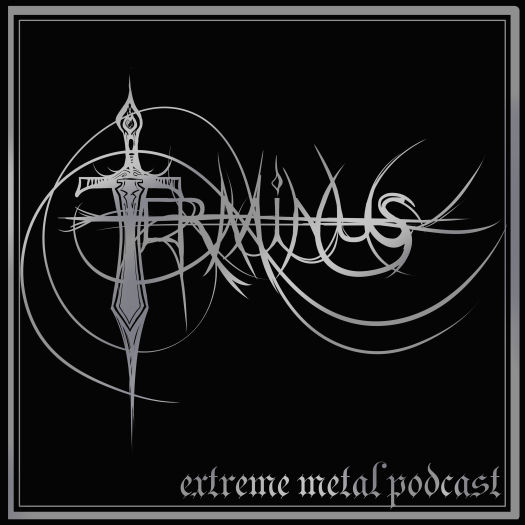 This week on Terminus, we continue reaping this fall's bumper crop of pagan black metal, punctuated by some extremely catchy brutal death. And it's one of those rare shows where we both really like every record!
We start by singing the praises of the new Macabre Omen, which easily transcends its unusual format -- one vast but tightly-woven epic, plus a bunch of tracks from raw 90s demos and splits you almost certainly haven't heard. You'll hear missing links to the early Hellenic scene, strange relics of Nordic influence, and forays into psychedelic pastures -- all still as bright as they day they were forged. After this sprawling, Bathorian segment, The Death Metal Guy leads us through Nihil Obstat's catchy, streamlined evolution of early-00s Colombian brutal death. The songwriting here is killer, and it's more like Greek black metal than you might think....
On Part II, it's all Slavonic spellcraft and Swedish steel. We start with a fan submission of sorts -- the debut of Ikotka (Икотка), from the wilds of the Ural Mountains in northeastern Russia. Their actually-ritual summoning songs draw freely from Russian, Ukrainian, and Polish sounds, but don't really sound like any of them. Finally, we close with the return of Svederna, who don the grim hauberk of full-spectrum 90s black metal, striving for the title of Most Swedish Band of All Time. This is the chance The Black Metal Guy has been waiting for to sperg out about forgotten late-90s Svensk BM, and especially one of his all-time favorite bands....

00:00 - Introductory bullshitting / social media plug / rundown of bands and labels
12:57 - Macabre Omen - Anamneses (Van Records)
55:56 - Nihil Obstat - Antimatter (Rotten Cemetery Records)
01:26:26 - Ikotka - Zagovor (SoundAge Production)
02:08:53 - Svederna - Hard (Carnal Records)
02:57:35 - Outro - Sorhin - "Skogsgriftens rike," fr. I det glimrande mörkrets djup, reissued most recently by Helter Skelter Productions (a top-shelf underground sublabel of Regain).
Terminus on Youtube
Terminus on Patreon

Terminus on Subscribestar