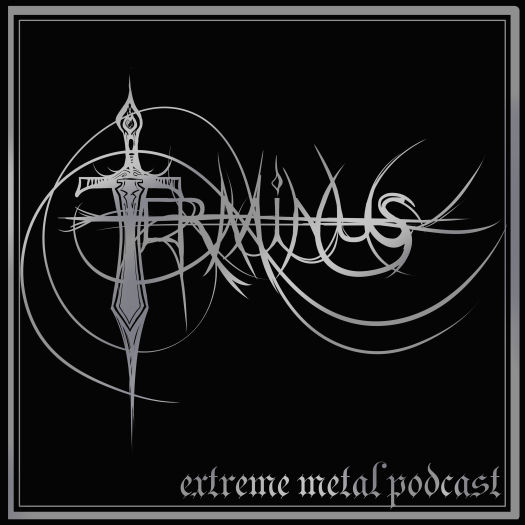 On this week's fukkin sikk episode of Terminus, we've got a whole lot of stern heathen black metal, and... some punked out brutal death from the Maggot Stomp scene. The Black Metal Guy leads off with the reincarnation of one of his all-time favorite bands as a rabid, ripping power-trio called Precambrian. We contextualize it alongside Roman Saenko's other projects, and link it back to forgotten influences on the margins of the Nordic Second Wave. Then, The Death Metal Guy comes in caveman arms a-swinging with Encoffinized (not Encoffination!), whose promising debut channels the most ignorant strains of primordial NYDM through shamelessly grooving mosh breaks.
In the second part of the show, each of us contributes a raw, stomping USBM record. First, we take the measure of Borda's Rope, weighing BR's considerable strengths -- stunning Big Riffs and ambitious long-form songwriting -- against the self-imposed limitations of this rapidly developing project. Then, we check out Oldowan Gash, and Hubris Unchained unchains our brains, bringing us back to the idea of American BM we explored in our Mortum review (Ep. 13). It's worth sticking around for this one, dudes.
00:00 - Introductory bullshitting / plug for Patreon and Subscribestar / rundown of bands and labels
17:58 - Precambrian - Tectonics (Primitive Reaction)
01:03:50 - Encoffinized - Chambers of Deprivation (Maggot Stomp / Sevared Records)
01:33:42 - Borda's Rope - Nearer the Shores of Kothal (Black Gangrene Productions)
02:24:12 - Oldowan Gash - Hubris Unchained (Drakkar Productions)
03:10:22 - Outro - Hate Forest - "Cenotaph" (live Bolt Thrower cover!), fr. Dead But Dreaming, also on Primitive Reaction.
Terminus on Youtube
Terminus on Patreon

Terminus on Subscribestar